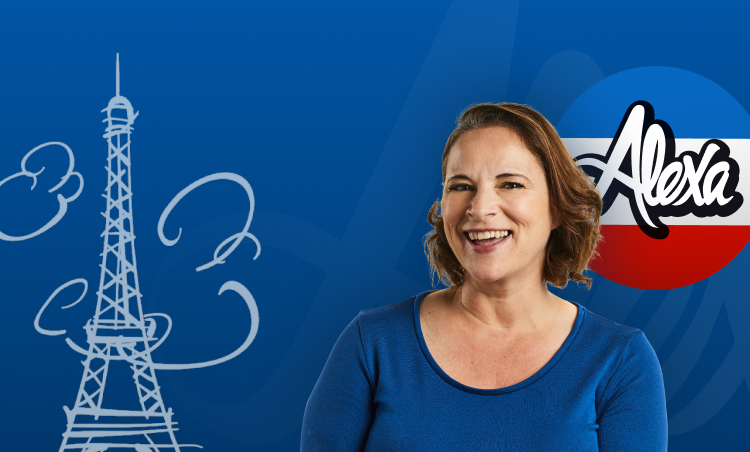 The Complete French Course
World-famous French teacher
Comprehensive lesson timeline designed to take you from the very basics to complete fluency
Used by millions of students around the world
Enjoy Alexa's unique teaching style across easy-to-follow audio, video and written content
What's included
Everything you need to speak French like a native
40 lessons that take you from A1 (beginner) level to C2 (proficiency)
Your own personal account area to keep track of your progress
Try a free sample lesson
Get access to part 16 of the Complete French Course to try, no payment details required.
View free lesson
Subscription options
You will be billed automatically until you cancel your subscription
What our students are saying
People all over the world are learning online with Alexa Polidoro
Why learn with Alexa
Discover what makes Alexa unique, and why people from around the world choose to learn French with her

French Teacher
Alexa has been teaching in schools and private classes across London for the past 25+ years.

Professional
Alexa's meticulously structured French video lessons are the result of her teaching experience with learners of all ages and levels.

Passion
Alexa really understands her pupils and their needs. The first thing you'll notice is her passion for teaching. Her enthusiasm is infectious!
Teamwork
Alongside Alexa is a hard-working team working to make all Learn French with Alexa content as relevant, accurate and useful as can be.

Community
Learn French with Alexa is more than just Alexa and her team: it's the millions of students who choose to learn with her. Join other students in live lessons and share your insights and experience on social media.

Entertaining
No more poring over textbooks! Alexa's casual approach and unique brand of humour make every lesson as engaging as the last.

FAQ
Some common questions about Alexa's Complete French Course
How often are the live lessons?
Alexa brings out a new live lesson every couple of weeks. Each of these lessons covers an important aspect of learning French and doubles as a great opportunity for you to communicate with Alexa and the wider Learn French with Alexa community.

The live lessons every second Tuesday, at 10:30, 12:30 or 13:30 GMT, although we occasionally take short breaks in the Summer and around Christmas.
What is the difference between YouTube and the Complete French Course?
The 'Learn French With Alexa' YouTube channel is a free resource providing French education in relaxed, easy-to-follow videos on a range of topics.
With the YouTube paid membership you will get access to support guides to some of our popular YouTube playlists, access to our regular live lessons and more, depending on the membership level. Visit our YouTube page to find out more. (
Learn French With Alexa - YouTube
)
The 'Complete French Course' is for people who wish to take their French to the next level and really want to focus on achieving fluency. The course is carefully structured from A1 (beginner) level to C2 (proficiency) level, following the internationally recognised "CEFR" guidelines.
Will The Complete French Course help me pass the DELF/DALF exam?
The LFWA course is not specifically designed for DELF/DALF exam preparation, however the course covers all the grammatical points which are required in the exam from A1 (beginner) level up to C2 (proficiency) level. So although the course is not explicitly designed to prepare for you for the exam, it can certainly supplement and help your DELF/TFE preparation. Why not take a look at the
course outline
to see exactly what is covered in each lesson.